James River Catfishing
The James has me hooked and to me it's nothing like being on the James not only the fishing but just the river itself, the beauty, wildlife and history of the James just holds me in ah. I've seen some of the most beautiful sunsets while fishing on the James that you could see anywhere .
A word of caution, the river is constanly changing. Many of the flats on the James extend out futher than the charts may indicate.
One of the first things to understand is the buoy markers on the river in the main channel and staying between the red & green buoys when traveling the river. The 3 Rs can be a good start:
Red

: red buoy

Right

: the red buoy on your right

Returning

: if the red buoy is on your right side you are returning from the sea...coast....
---
The second thing to remember is respect the river....it can get ugly fast. Read the about the close calls these guys had on the last half of the linked page:
---
The third is getting familiar with the river.....If you click on this link and study the river from the map link it will help you get more familiar with the river:
The below link is ONLY for the purpose of pointing out locations along the James and getting familiar with the James River in VA from Richmond to Hog Island about a 70 mile stretch of the river. If you have Goggle Earth loaded you can click the link at the top of the page to view it through that.
All the links to the river locations are under the paragraph explaining the map.
You will also notice I have the ramps in order as you are going down river from Richmond at the top of the chart, any ramp you click on will also have a link to get directions. Also after the ramp listings, all areas on the map are in order coming down river. Just like you're GPS/fishfinder you can zoom in and out on the map. A larger view of the map is aquired by clicking the double arrow at the top left hand side of the map. I think it's a great tool for learning the river and wish I would have had it when I was new to the James.
When clicking on the pointers for each area on the James many of the popup windows also have links, especially the ramps (1-10). When the map first comes up it's a good idea to zoom in a little so the pointers are spread out. "L" 295 bridge is pretty neat, a link is in the popup for a pic from a plane. At the top left corner of the pic is Dutch Gap Power Plant.
Also t hese are the best charts I've found. I actually printed them out and carry them in a 3 ring binder when I go fishing. I also use top loading sheet protectors rather than punching holes, plus it keeps the pages dry.
These are large files so be patient it may take a minute or so if you have a slow internet connection. I would recommend saving the file to your computer. After the file is loaded just click on file on the top menu and then save and choose the location on your computer to save it. These files are in PDF format
and what is great you can zoom in to look at details.
Below is the Booklet Form (Note: If you have a dial up connection don't even try......it takes a while even on broadband)

---
Below are links to view the James River Charts that are complete...not broken down into pages:
---
Can someone give me an idea where to start?
Think about safety when boating......it could save your life . ..
guide your first trip to the James River to get somewhat familiar with the river. I have even heard of guides from other areas that will use a guide the first time on the James. Being a tidal river, of course you have to keep tabs on the tide, the wind, shallows, and barges to mention just a few things. The barges and cargo ships can be unbelievable quiet to be as large as they are and can sneak up on you when you least expect them. Caution around Hopewell, Benjamin Harrison Bridge and the Islands before Tar Bay is critical. Getting out of the main channel has its risk, shallow water and wrecks are 2 things to be careful of. Keeping in mind the James is a tidal river the water level can change as much as 3 feet so it's very important to keep up with what the tide is doing especially if you are out of the main channel. The average depth of the main channel is between 20 & 30' (not to say there is a lot of 40, 50, 60, and even 90 foot deep areas on the James)and you can get in a foot of water real quick out of the main channel in some areas and especially around Hopewell.
Always keep in mind the barge and ship traffic and highly recommend anchoring on the edge of the main channel and it still can be close on some of the cut-thru areas especially Presque when a large barge or container ship comes through.
The best way to start is studying charts and maps .
The below linked software is free but takes a lot of memory on the computer to run it. You will need Google Earth Software loaded first for EarthNC to run.
EarthNC - N autical Data for a Digital World . You might need to already have Google Earth Software loaded and running before using EarthNC. It's great if you have every used Google Earth this is an added bonus. Great tool for the James River. 2 files, scroll down the VA listings:

US5VA32M(12252)
James River, Jordan Point to Richmond

US5VA51M(12251)
James River, Jamestown Island to Jordan Point
---
Would Hopewell be a good area to start?
Several things you need to consider on the James. It can get rough on the water fast if the wind starts bucking the tide. So you have to consider your boat size and the area you plan to fish, it can be calm when going out and then in the afternoon the wind could make it a real danger getting back in. Hopewell and below is considered big water and can be the biggest threat in a smaller boat. Check out this link on my site scroll on down below the weather links to read about some experiences from others:
http://www.jamesrivercats.com/weather.htm
---
But I"m not sure guess I will bring my own bait for the first day but gonna need to catch it the next day. I'm sure they will be deep during the cold weather and you probably can catch some around the banks at night or in the mornings.
Before day break and the last 2 hours of outgoing tide is the very best time to catch bait but not always able to catch that combination. But you are right if you can get out before day break. During the day, it's much easier to catch bait the last 2 hours of outgoing tide, on high tide the bait is scattered. Most guys use gill nets on the James for bait in which you have to acquire a separate license other than a fishing license. Many guys catch bait around the Benjamin Harrison Bridge area.
Here are 2 links from my website on bait
http://www.jamesrivercats.com/gill.htm
http://www.jamesrivercats.com/bait_fish.htm
Also let me mention if you are not after altogether trophy size blue cats eel makes an great bait and would keep your son more interested as usually you will bring more fish in the boat just smaller. Eels will bring a lot of the smaller size fish to the boat, fish them live or in 4" chunks. Fishing them live cut off 4" from the tail and hook them at the cut. Run the hook from the inside meat at the cut then through the tough skin...makes it a little easier. If you hook the head they will wrap around the leader.
http://www.jamesrivercats.com/bait.htm
A couple places to get eels:
11600 Jefferson Davis Highway,
Chester, VA 23834 Map
Winter Hours-

Mon-Thur:6:30 - 6:00,

Fri & Sat: 6:30 - 7,

Sun: 6:30 - 4:00
---
2570 New Market Road
Richmond VA 23231 Map
Phone: 804-795-5917
---
Also what lb leader do most use. I use 65 lb powerpro and sometimes mono leader but not sure on the James River?
WELL....I have used a guide to get familiar with the James, he has fished the James for the past 38 years and doesn't like braided line at all. He says it will break easer than mono and I think I would have to go along with that. Just in tying knots I have found the braided line will break much easier than mono when using pliers to snug the tag line on the knot. The mono leader absorbs the shock of sudden jerks and runs from the catfish, and gives the quality of abrasion resistance not found in braid. I have seen 30 lb test snapped into like it's nothing. My preference is at least a 40 lb mono test line with a 80 lb test leader, with the leader length ranging from 12-30 inches long. The link below has more info on tackle:
http://www.jamesrivercats.com/tackle.htm
---
Is there alot of snag, stumps etc?
Snags and stumps are usually not a problem although you can find some areas to be a pain. If you fish really close to the old wrecks and barges you can get hung up also. The Presque cut area again is a problem area for losing anchors because of the rocky bottom.
---
Also a lot of great info in my links to articles section on the website .
The first pic below will have some general fishing areas with red dots that most guys know about, what most would call community holes. Its a good start for general info.
Click on on chart below for full view...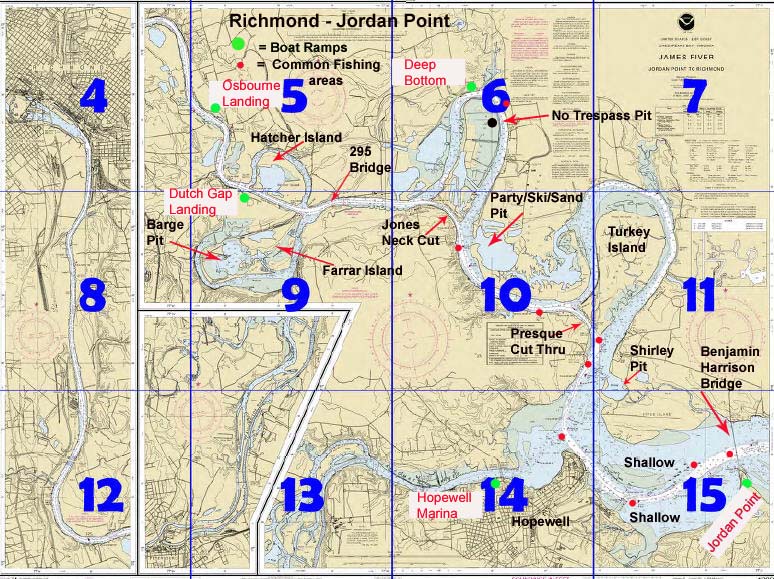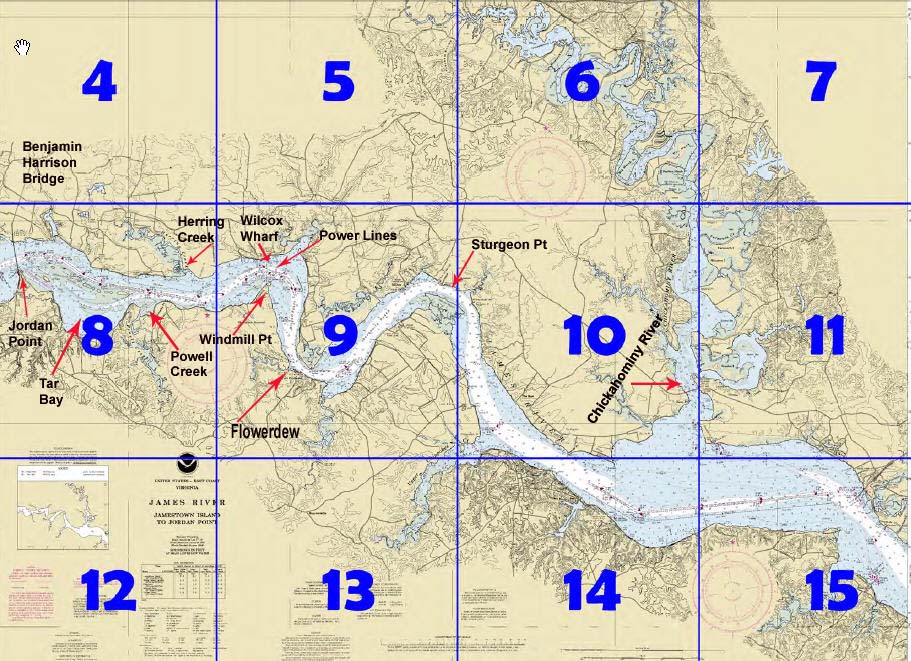 ---
How Far is it?
1. Osborne Landing to upper leg Jones neck: 4.75 miles
(upper Deep Bottom Leg)

2. Osborne Landing to Dutch Gap Ramp: 1.6 miles
3. Osborne Landing to Jimmy Dean's: 2.1 miles
4. Osborne Landing to 895 Bridge: 4.6 miles
5. Jones Neck Cut (distance from upper to lower leg) : 1 mile
6. 295 Bridge to upper leg Jones neck (upper Deep Bottom Leg): 1.32 miles
7. Deep Bottom Ramp (upper leg) to Main River Channel: 2.2 miles
8. Deep Bottom Ramp (lower leg) to Main River Channel: 2.9 miles
9. Deep Bottom Ramp (upper leg) to inside Barge Pit: 6.5 miles

10. Deep Bottom Ramp to mouth of Appomattox: 7.7 miles
11. Deep Bottom Ramp to Jordan Point : 11.7 miles

12. Jordan Point to Wilcox Warf/Power Lines: 7.7 miles
13. Jordan Point to Wards Creek: 12 miles
14. Wards Creek to Sturgeon Point: 4.5 miles
15. Wards Creek to Mouth of Chick: 14 miles

16. Mouth of Chick to HWY 5 Bridge: 2 miles
17. Mouth of Chick to Upper Chippokes: 4.6 miles
18. Mouth of Chick to College Creek: 14.5 mile s
19. HWY 5 Bridge to Morris Creek Ramp: 3.5 miles
20. HWY 5 Bridge to Brickyard: 8 miles
21. HWY 5 Bridge to Rivers Rest: 11.7 miles
---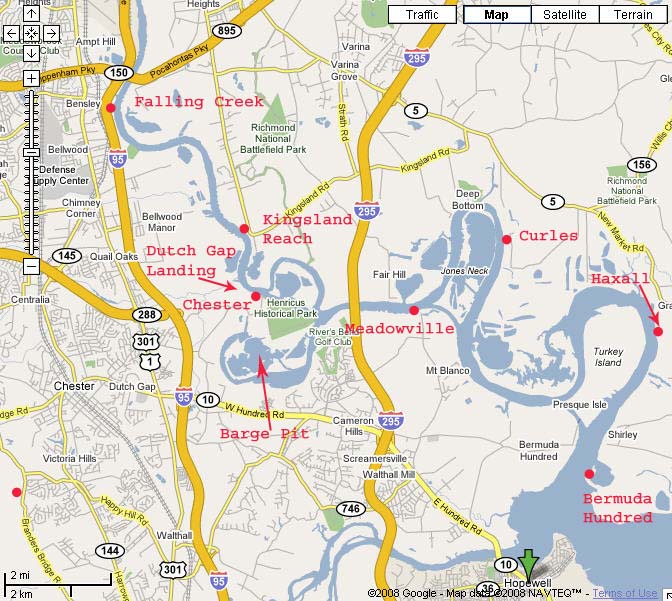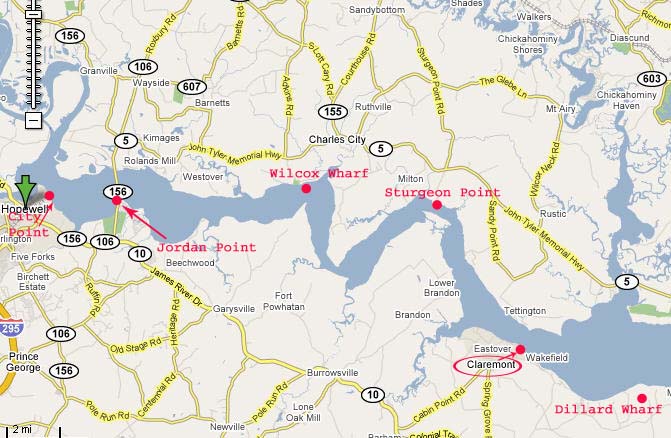 ---
Notice: Gill Net License News from DGIF:
A ll the saltwater licenses presented in our purchasing systems are VMRC license and DGIF provides the service of selling them as an agent. A link below to VMRC showing "What's New" showing the six recreational license that DGIF is now selling for them through our system. Customers can contact us at 866-721-6911 for replacements or corrections on any of the licenses we sell.

DGIF's system is completely automated, customers purchasing via DGIF will be able to purchase the VMRC's 2010 license on 01/01/2010.
3 ways in which to purchase licenses through DGIF, link below:
http://www.dgif.virginia.gov/licenses /
For further assistance, contact DGIF at 866-721-6911.

VMRC link below:
http://www.mrc.virginia.gov/whatsnew.shtm

July 2, 2009: Six Virginia Marine Resources Commission licenses for recreational use of some commercial fishing gear now will be available for purchase through the Virginia Department of Game and Inland Fisheries' easy-to-use online or over-the-phone license sales system. Available for purchase for recreational use will be licenses for fish cast net, fish dip net, crab trotline, 300-foot gill net, eel pots and a crab pot license that allows up to five pots to be set recreationally. These licenses now can be purchased online at Licenses, by calling 1-866-721-6911 (Monday through Friday from 8 a.m. to 5 p.m., except holidays) or in person from hundreds of DGIF license agents located around the state. Licenses are also sold by some clerks of the Circuit Court, or through mail order. The licenses will continue to be sold by VMRC licensing agents as well.
---
---